Friends of the North Fork of the Shenandoah River held a rain barrel workshop in partnership with the Town of New Market and Mike Ritchie on May 23 from 6:30-8:30pm. There were 10 participants who purchased 12 rain barrels.  That equals 1,000s more gallons of water saved in the Smith Creek watershed.
Cindy Frenzel, our education coordinator, conducted a presentation about water protection and personal watershed stewardship and followed with an explanation of how to create and install a rain barrel.  Mike Ritchie, Director of Public Works for New Market, helped with storage of the rain barrels and also stuck around to help make the barrels.
As usual, everyone had a great time and enjoyed learning about the watershed and teaming up to help one another assemble the barrels.  These types of workshops are a key component of our watershed stewardship education and outreach efforts at Friends of the North Fork.  These are affordable (thanks to funding from organizations like PWF and Cargill), interesting and environmentally beneficial ways that individuals can make a positive impact on water health in their backyards.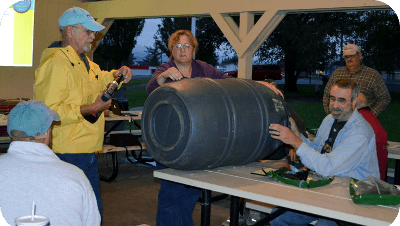 Thank you to Pure Water Forum and to Cargill for helping Friends of the North Fork of the Shenandoah River create another opportunity to protect water health in the Smith Creek and great North Fork Shenandoah River watershed.
Financial breakdown - funding supported a portion of the purchase and pick up of barrels and materials for converting the barrels to rain barrels for the workshop and allowed us to charge a minimal fee of $39 for Friends members and $49 for non-members. We also give a free membership for a year to non-members who attend a workshop like this one.